INTRODUCTION
 
               Internal Audit Unit



Internal Audit Unit performs activities related to planning, organizing and execution of tasks related to internal auditing, making analysis and assessment of all activities perform under the Faculty of Civil Engineering. The audit assessment is carried out as per the best professional practice and internal audit standards, complying with international standards of the professional body such as MQA, COPIA, EAC.




The internal auditor is responsible on the evaluation of the process, and internal control systems based on assessment; drafting a report on internal auditing with findings and appropriate opinion which are submitted to the Faculty of Civil Engineering Top Management.
TEAM MEMBER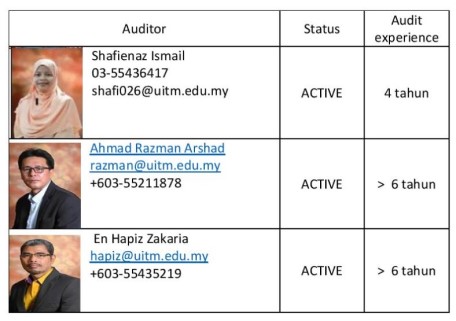 YEARLY PLAN
The Internal Audit scope including all the activities related to policy, regulations, and Standard Operational Procedure (SOP). There are four main audit tasks that are routinely conduct every year and is listed as follows.
Course file audit

Laboratory audit

Faculty of Civil Engineering Branches Program Audit (EC110) and (EC221)

Management Audit
DOCUMENT RELATED
Audit Gallery

Audit news update